Canoeing the Churchill River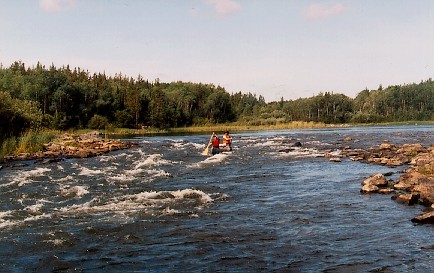 If you consider the Waterhen and Beaver rivers as its source, then the Churchill River crosses the entire province of Saskatchewan as it flows east into Hudson's Bay. One of the world's best canoe-camping rivers, the Churchill has something to offer everyone with its large majestic lakes connected by a series of rapids and falls. Ranging from easy class 1 riffles, to class 5 falls, the Churchill is an ideal canoeing river for anyone of moderate ability. Where the rapids are too difficult to run, the portages are in good shape. Wilderness campsites are numerous on the many islands or rock outcroppings along its shores.
With most of its length untouched by technological activity, it is easy to maintain the illusion of paddling back into the history of Canada. In the days of the fur trade the Churchill was the major link between Eastern Canada and the Arctic regions for the Northwest Company of Montreal. Its lakes, falls, and even the names of its portages are almost identical today to those described by Alexander Mackenzie in his journey to the Arctic in 1789.
---


Pictures of the Churchill River
---
Books about canoeing the Churchill, and Northern Saskatchewan:
Lonely Voyage, Kamil Pecher, Western Producer Prairie Books, 1978

The Lonely Land, Sigurd F. Olson, Knopf, 1961 The Sigurd F. Olson Web Site

North To Cree Lake, A. W. Karras
---
Other Sources of Information
This page Copyright 2013 David Dice all rights reserved