Of moles and other furry creatures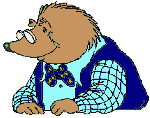 Chemists always want to know how many atoms or molecules have reacted. Numbers, numbers,numbers! But we know that molecules are pretty small, and the idea of counting them seems pretty preposterous. However, we can count very small objects by weighing them, if we know what each individual object weighs. Now, the atomic or formula mass isn't the actual mass of an atom or formula unit, but it is the relative mass of the same number of them. We generally work in the lab with gram sized quantities, so it would be really useful to be able to measure the number of atoms or molecules in that sized quantity of material. Because of this, chemists have created a unit of chemical amount of substance
The Chemical Amount of Substance = A mole
A mole is defined as: "enough atoms (or formula units) to equal the atomic (or formula) mass in grams"
Look back at the experiment with the different grains. This is exactly the same idea as counting the Number of Seeds Needed to Equal 1 "Atomic Mass" in grams.
---
Celebrate International Mole Day!
---
---
Copyright © 1998 - 2008 David Dice