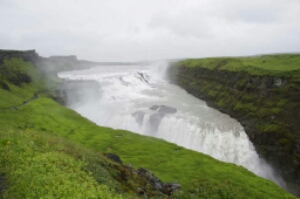 It wasn't a nice day.  We awoke to rain this morning, but decided that since we'd come to Iceland to see nature, we'd do the best we could.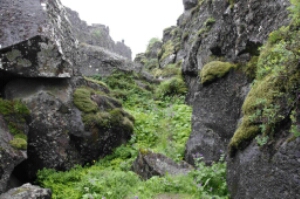 It wasn't too bad in the morning, though it was very windy, but it didn't rain too hard.  We stopped at Þingvellir, the national park and walked down through the rift with North america on the right and Eurasia on the left.  It started to rain as we left, and that was the end of the best weather for the day.  From that point on it started to rain more and more and got windier and windier.
We had a nice lunch in the spa town of Laugarvatn, then drove on to Gullfoss (which means golden falls).  It is a spectacular waterfall, but it was very, very windy and cold with the rain stinging cold against your face.  Fortunately we had our rain pants and coats.
Back in Rekyjavik we went to the settlement museum.  It is actually the basement of a hotel where the site was discovered during construction.  The archaeology was done on the site, and then they built the hotel overtop.
We walked, in the rain and wind, to try and find a restaurant.  Since the museum closed at five, and most of the restaurants started serving at six, we wanted to try and find something that was open so we could get in out of the awful weather.  We went in to Iceland Fish and Chips, which looked good.  However when the food came it was absolutely covered white with ground rock salt.  Enid took one look at her dish, and realized that she couldn't eat it, so went to the kitchen and asked for a dish with no salt.  When it came there was no salt on the fish, but still was on the potatoes.  So now I really complained to the waitress, and she took it away and brought back more.  This was better, but while Enid was eating I wiped each of her potatoes off with a napkin to try and get rid of the salt.  I am sure that there was between 5 and 10 grams of salt on the food.  Then when we went to leave, no one was at the till to give us our bill.  We were tempted to walk out without paying (but we didn't).